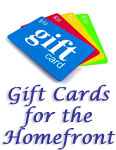 For our soldiers fighting overseas it can be tough to stay focused when they know their families may be struggling back at home. Eagle's Watch Foundation wants to help lighten the load, and you can help by donating a gift card of any amount. We'll make sure they go to military families who are in need.
Gift cards from stores like Walmart, Safeway, Giant, Home Depot, CVS, Target, Costco, Visa, American Express, and the like would be greatly appreciated.
Listen to our friend Joe Bevilacqua share about it.

Please mail your gift cards to:
Eagle's Watch Foundation, Inc.
200 Lawyers Road, NW #256
Vienna, VA 22183-0256
Still not sure what to send? May we suggest a Visa Gift Card, which may be used towards covering health care and medical expenses, doctor's fees, prescriptions, and much more. With the cost of medical expenses constantly increasing, this gift card is a unique way of showing that you care.